Welcome to our site
This site is created to share my passion for woodworking and build a community to support beginners in woodworking, like me. For me, the woodworking is fun, inspiring hobby and helps me to design, create and relax. By no means am I a professional woodworker and this is my journey exploring techniques and solutions to various woodworking project challenges and you invited to check on my progress. Most popular projects are listed below and you can
search
or explore your favorites by visiting the
projects
page. We have some free and paid project
plans
for you to explore and build. Good luck
Recently our
YouTube channel
was selected as top 100 woodworking from the list.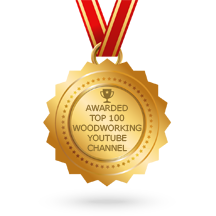 ---
Chopstick Factory
This project provides improvements on chopsticks building experiment with hand tools. The result was this nice jig that was performing flawlessly and repeatably creating beautiful chopsticks that were hand made but uniform and attractive.
Ladder Build Experiment
This project was inspired by antique wooden ladder and we manage to replicate it down to detail. The amazing part is that this ladder design does not use any metal hardware other than nails and screws. The project was great success and results were amazing.
Thin Strip Jig Experiment
This project was created to make thin strips on table saw without using any measurement devices. It succeeded to achieve 1/32" accuracy and was build using transversal scale.
Sink Bridge
This project helps to build simple sink bridge for using as a base for Waterstone sharpening system.